Hello and good morning...
I am soooo excited to share my kit reveal with you today. I worked with the "So In Love With You" kit this month.. I just LOVED it.. the kit was completely packed with such a fun variety and mix of papers from several manufacturers.. This is why I LOVE Tammi's kits... putting together papers that I wouldn't normally pair together..
Here is the kit:
So IN LOVE WITH YOU KIT:
Papers:
(1) Fancy Pants "Forget Me Not"
(2) Crate Paper Little Bo Peep "Hazel"
(2) Fancy Pants Time for Spring "Sugar & Cream"
(2) Authentique Lively "Vivacious"
(2) Authentique Lively "Chipper"
(2) Authentique Lively "Spirited"
(2) My Minds Eye The Sweetest Thing Love "Bouquet"

Embellishments:
(1) Crate Paper Brown Alpha stickers
8 yds October Afternoon bakers twine
(1) pkg Bella Blvd "Hot Pink Flower" buttons
(1) Colorbox catseye "Rouge" inkpad
(1) My Minds Eye The Sweetest Thing "Love" title
(1) My Minds Eye The Sweetest Thing "One of a Kind" journal card
(1) Exclusive sketch (not pictured)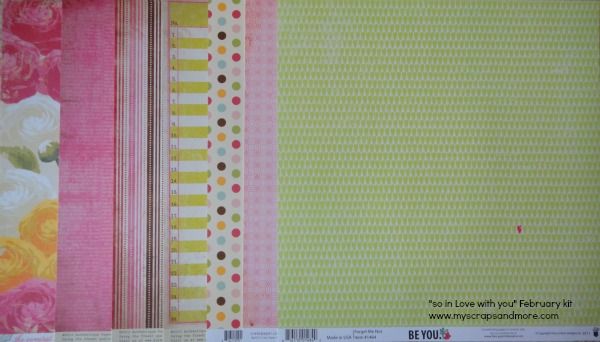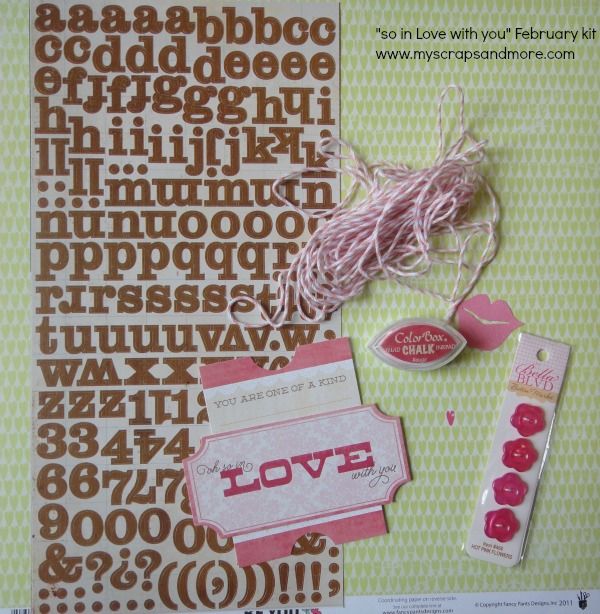 My first page with the kit is of my sister from her recent wedding:
I cut out some triangles and added some pink Sharpie pen doodles on them to make them pop off the page a bit:
I also created my own embellishments, first by cutting out a flower from the MME flower paper and crumpling it, and then added some twine to the Bella Blvd button:
Lastly, I wanted their photo to be the focal point of the page, but LOVED the lovebird paper and had to add just a bit of it on the layout. Plus I thought by border punching some scallops, it would add a soft feel on the page:
My second layout is about my sweet daughter and her first kisses that she learned how to give:
I LOVED the fun pink ink that was included in the kit, it really added a super soft feel to all my projects using the kit.
I stitched over my triangles and mixed and matched papers to add lots of color:
The LIPS embellishment from the kit was the perfect accent piece:
These layouts are just a hint of what I finished with this kit.. It was truly packed full of papers and goodness!!!!
Thanks so much and have a wonderful day!!!