Hi everyone!!
The Trick-or-Treat Crop is still going on!! You have until tomorrow to turn in your layouts!! You can find it
HERE
in the forum.
Today I am going to share a layout I created for one of the challenges:
Trick-or-Treat Crop Challenge #7:
My absolute favorite candy of all time, especially at Halloween, is Sweet Tarts!!!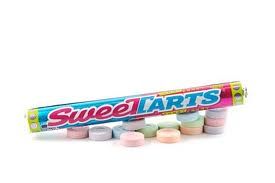 For your challenge, you are to use Sweet Tarts as your inspiration! The colors, shapes, packaging, name, etc...whatever inspires you! Just be sure to include what it was when you upload your layout!
I have used the Sweet Day collection by Echo Park for my layout. I was inspired by the colors and the name.